In my talks on leadership I often incorporate quotes as they are a great way to understand and learn from the perspectives of scholars, practitioners, and ordinary people who all have opinions on what it takes to be an effective leader.  For this first blog based on a recent workshop I conducted for the  Connecticut Chapter of the National Society of Hispanic MBAs, I will dissect a definition of leadership penned by leadership scholar Warren Bennis, and challenge you along the way to think about how Bennis's definition can be applied as you cultivate your personal exemplary leadership.  For more insights please watch the accompanying short clip.
Bennis says…
Leadership is a function of knowing yourself, having a vision that is well communicated, building trust among colleagues, and taking effective action to realize your own leadership potential.
Knowing yourself.  This seems like a rather simple concept, and in actuality, it is.  In order to be an effective leader we need to know who we are.  We need to know our strengths, and just as importantly (maybe more), we need to know our weaknesses.  Leadership guru Peter Drucker, in a classic Harvard Business Review article titled Managing Oneself, discusses this concept eloquently.  He points to the many ways that people 'get things done', and the many ways that people are held back from doing so.  Leaders need to understand, in my opinion that they can't do everything on their own, and they need to organize a team that has people to complement their skills and abilities.
Vision.  As Bennis states, we need to have a vision that is well communicated.  Every successful organization has a vision of where it wants to be and has a team of executives who work to communicate that vision to their people.  We need to remember again that leadership is not about position, and it isn't only the CEO of the company or the captain of the team who leads the group, everyone needs to act as a leader, and as I discussed in a previous post, it is everyone who needs to model 'leader-like' behaviors to those around them.  This is why it is so important that the vision of the organization and the vision of those who are formal leaders are communicated to everyone.  Without the vision being communicated effectively it will not be lived by all those who need to model it.
Trust.  Building trust among colleagues.  This is a blog in and of itself (and will be in the future.)  Researchers, scholars, and authors Jim Kouzes and Barry Posner, whose groundbreaking work became The Leadership Challenge, identified trust as one of the keys to positive outcomes for leaders.  Think about the many traits that leaders must exhibit in order to be successful, and then think about what would happen if they exhibited all these great traits and behaviors, but they didn't have the trust of those around them.  What would happen?  More importantly, what wouldn't happen?  Well, chances are that you wouldn't follow for long, right?   In order for a leader to most effectively lead his or her team there needs to be mutual trust between leader and follower.  If you don't have a relationship built on trust you may follow a leader for a while, but eventually you will stop.  If you have trust the relationship will continue and will be mutually beneficial.
Leadership Potential.  So, how do we, as Warren Bennis says, take effective action to realize our leadership potential.  To me, this is the easy part, sign up for either the Master of Arts in Leadership or Master of Science in Management and Organizational Leadership at Albertus Magnus College.   These are two great ways to take action to realize your leadership potential.  Other ways we can realize our potential are by simply buying a book on leadership or on any topic we are interested in and want to learn about.  We can also sign up for a class or workshop, watch a documentary, serve on a board, help a nonprofit, or do just about anything that we will find fulfilling and help us grow.  In order to realize our potential we must (once again), know our self, and become the best at being our self.  There are many great ways to realize our leadership potential, but I have to admit, my favorite is still signing up for a degree program at Albertus Magnus College.
I hope you enjoyed the short introductory video from my workshop and over the next several months please check back here at the Albertus Magnus Blog for more insights on leadership from me as well as the distinguished faculty, students, and alumni of the Albertus Leadership Programs.  As always, I invite you to please respond to this post with your comments, examples, and insights, and also email me with any questions or insights you have!
Howard C. Fero, Ph.D.
The Leadership Doc
Director, Graduate Leadership Programs
Associate Professor of Business and Leadership
Albertus Magnus College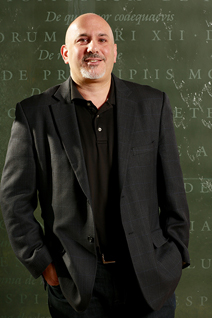 Dr. Howard Fero, is an Associate Professor of Business and Leadership and the Director of Graduate Leadership programs at Albertus Magnus College. When not teaching classes and overseeing the Leadership programs at Albertus Dr. Fero uses his expertise to help individuals and organizations achieve optimal performance and effectiveness as The Leadership Doc. Dr. Fero will be blogging about different leadership topics throughout the year and speaks about these topics in his classes in the Master of Arts in Leadership and Master of Science in Management and Organizational Leadership Programs. He welcomes your comments and looks forward to communicating with you in our exciting new blog.